Waste Management provides residential Recycling and Green Waste solutions at the curbside for City of Grass Valley residents for a monthly fee. For more information, or to sign up, please contact Waste Management at (530) 274-3090.
Create an online profile with WM.com! With a MyWM account you can:
Pay bills, enroll in autopay
Access your collection schedule
Set preferences to receive important service notifications
Log in or register at www.wm.com/mywm. Download the MyWM Mobile App for iOs or Android.
Free Christmas Tree Recycling
You can cut your tree to fit in your Green Waste Service bin! Just make sure the lid shuts.
Free Drop Off Locations


December 26th to February 4th, 8am to 3pm

McCourtney Road Transfer Station – 14741 Wolf Mountain Rd, Grass Valley
Eric Rood Administration Center – 950 Maidu Avenue, Nevada City

Saturday, January 7th, 9am to 3pm

Lake Wildwood Water Treatment Plant – 12622 Pleasant Valley Road, Penn Valley
Lake of the Pines Water Treatment Plant – 10803 Riata Way, Auburn
Alta Sierra Fire Department – 11833 Tammy Way, Grass Valley

Christmas trees must be free of any decorations, including lights and flocking.
What Can Be Recycled
| Yes | No |
| --- | --- |
| Flattened cardboard: boxes, brown bags, packing paper | Incandescent or florescent bulbs |
| Newspapers and magazines | Pizza boxes (used) |
| Mixed paper: books, phone books, cards, junk mail | Flower pots |
| Office paper (do not shred) | Plastic bags |
| Plastics (#1 – 7) | Styrofoam |
| Medicine Bottles (remove personal information) | Wax-lined coffee cups |
| Cans: aluminum, tin | Milk, juice, soup cartons |
| Glass | Aluminum foil or foil containers |
*NO Hazardous Materials (see below)
**Place Co-mingles in containers without bags**
*These Hazardous materials can be picked up curbside: Motor Oil and Batteries. Contact Waste Management to have oil containers dropped off for oil pick up. Place small batteries in clear baggie and tape to the bin.
How to Prepare Recyclables
Rinse containers of liquids & solids (no need to remove labels)
Paper towels, cardboard and paper must be dry and free of food debris
Aerosol cans must be empty of non-toxic contents
Batteries in clear baggie, taped to bin
Motor oil in Waste Management oil container
Construction Recycling
If construction projects exceed 600 sq. ft. or project cost estimates are greater than fifty thousand dollars ($50,000.00), the McCourtney Road Transfer Station shall be used for all construction and demolition materials where a recycling service is provided.
Mattress Recycling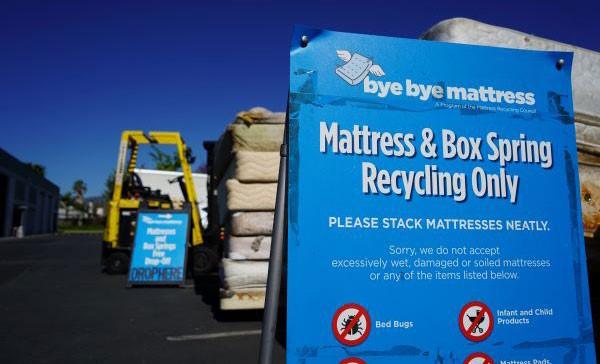 With the support of Nevada County Solid Waste Department, Waste Management now offers free disposal of a combined five mattresses and box springs a day at the McCourtney Road Transfer Station for all residents. This program is made possible through the Bye Bye Mattress program that is operated by the Mattress Recycling Council. MRC and WM are working together to offer this program to all county residents regardless of if they are WM customers. More information available here: https://byebyemattress.com/about-us/
Residential, Commercial and Industrial Hauling
13083 Grass Valley Avenue
Grass Valley, Ca 95945
(530) 274-3090
Hours of operation:
Monday – Friday: 8 a.m. – 5 p.m.
For more information visit the Waste Management website.
McCourtney Road Transfer Station, Recycling Center / Hazardous Household Waste Facility and Reuse Room
*Commercial Customer Hours for Household Hazardous Waste Facility:
Wednesday and Thursday, 8:00 a.m. to 3:30 p.m. Appointment required.
Please call (530) 274-0120.
The Reuse Room has latex, oil based paints and miscellaneous paint supplies; products for household cleaning, wallpaper, grout, tile, masonry, auto, garden and fertilizers; aerosols. All are available for FREE. Product availability varies.
14741 Wolf Mountain Road
Grass Valley, Ca
(530) 274-2215
Transfer Station, Recycling Center and Reuse Room Hours: Wednesday – Sunday: 8:00 a.m. to 3:30 p.m.
Household Hazardous Waste Facility Hours: Friday – Sunday: 8:00 a.m. to 3:30 p.m.
Fluorescent bulbs
Antifreeze
Pesticides/Weed Killer
Batteries
Motor Oil and Gasoline
Household Cleaners
Electronics
Waste Management is responsible for operations at the McCourtney Road Transfer Station. While former County services remain in place, rates will support regulatory mandates and increased operating costs associated with environmental issues. New regulatory mandates regarding the handling of Green Waste include third party grinding off-site, and regulations surrounding the management of material potentially infested by the European Grape Vine Moth. White Goods (WG) disposal and recycling is available.
Habitat for Humanity Restore
12359 Loma Rica Drive
Grass Valley
(530) 274-3761
Tuesday – Saturday 9:00 a.m. – 6:00 p.m.
What is Restore? ReStore is a home improvement outlet store that sells donated, new, used and surplus goods to the public at greatly reduced prices. Every penny of profit is used to support Habitat for Humanity of Nevada County.
How do I Donate? Schedule a pick-up by calling ReStore's donation line at (530) 274-3761 or e-mail ReStore at info@nchabitat.org. You may also drop off your donation at 12359 Loma Rica Drive. Click here for Map & Directions
KNCO830 Radio Swap Shop offers creative recycling!

Swap Shop is a free online resource where you can find or discard items. It demonstrates the idea that one person's trash is another's treasure. Simply log onto the Swap Shop website and create a wanted or available listing.
Check these resources for more recycling and reuse:
Animal Save Thrift Store
Cancer Aid Thrift Shop
Hospice of the Foothills Gift and Thrift Store
Living Well Thrift Store
Mt. St. Mary's Thrift
Salvation Army Family Store
Safe Medicine Disposal
For years, it was common practice to flush medications (pharmaceuticals) down the drain. Doctors or pharmacists may have directed you to do this. We now know that these substances are detrimental to our environment – the ground, water, and air around us. Trace amounts of some substances may be harmful to aquatic life. Over the last decade, there is growing evidence that pharmaceuticals, when flushed into the wastewater system, tend to persist in highly treated wastewater. Continual, multi-generational exposure of aquatic life to multiple pharmaceuticals is proving to have negative consequences on our environment.
Items Accepted
Prescription pills & capsules
Over-the-counter pills & capsules
Medication samples
Vitamins & Supplements
Homeopathic remedies
Pet Medications
Medication Patches
Items NOT Accepted
IV Bags
Bloody or Infectious Waste
Personal Care Products
Aerosol Cans
Full Inhalers
Liquid medications, ointments, lotions, creams
Thermometers
Visit the state website at www.nodrugsdownthedrain.org
Pesticide Use and Disposal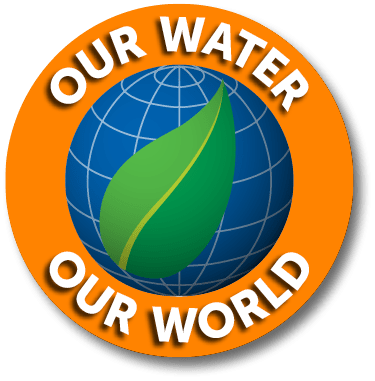 Pesticides can cause problems for our health and the environment even when applied according to label directions. Pesticides sprayed outdoors to kill insect pests or control weeds make their way into our waterways. Very small amounts of pesticides can be lethal to marine life, birds, and other life forms.
This is why water pollution prevention agencies in charge of our municipal storm drain systems and wastewater treatment plants support "integrated pest management" (IPM), a strategy that aims to prevent pests and their damage long-term, using a combination of least-toxic techniques. Pest control materials are applied in a manner that minimizes risk to human health, beneficial and non-target organisms, and the environment.
Our Water Our World, is a joint effort by water pollution prevention agencies, participating retail stores, and pesticide distributors and manufacturers — working together to reduce the risks associated with pesticide use. Visit the Our Water Our World website at: https://ourwaterourworld.org/
Wolf Creek Community Alliance

The Wolf Creek Community Alliance (WCCA) is a volunteer run non-profit organization and the City's partner with a mission "To protect, preserve, and restore the Wolf Creek Watershed by increasing knowledge, appreciation, stewardship, and public access to the creek."
WCCA members help maintain several public riparian areas. In addition to monitoring the physical, chemical and biological conditions of Wolf Creek, the alliance keeps a watchful eye out across the community with a vision of "A free-flowing clean creek and a healthy, bio-diverse watershed for the benefit of present and future generations"
More information can be found on the Wolf Creek Community Alliance website
UC Master Gardeners of Nevada County

The UC Master Gardeners of Nevada County is a volunteer program started in 1983 with a mission "To inspire foothill gardeners to embrace research-based sustainable gardening practice so our community and environment thrive."
Master Gardener volunteers maintain a Demonstration Garden on the NID property within City limits as a way to show and tell about good gardening practices. The UC Master Gardeners organization hosts public workshops, webinars and training resources in order to "To extend research-based knowledge and information on home horticulture, pest management, and sustainable landscape practices to the residents of California"
More information can be found on the UC Master Gardeners of Nevada Country website