Join the Team
Animal Shelter Assistant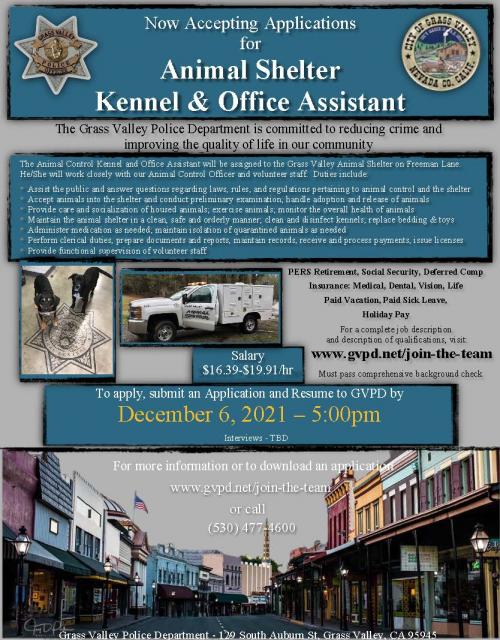 The City of Grass Valley is hiring a Animal Control Kennel and Office Assistant. Deadline to submit an application is December 6, 2021 at 5:00pm.
Animal Shelter Assist is to perform clerical and technical duties, prepare documents, correspondence and routing reports; to receive and process payments, issue dog licenses, assist the public, provide care and socialization of housed animals, maintain the Animal Shelter in a clean, safe and orderly manner and provide other support duties as assigned.
Animal Shelter Kennel and Office Assistant Job Description
REQUIREMENTS to Apply:
· United States Citizen
· High School Graduate or GED equivalent
· Possess a valid driver's license
· Must be at least 18 year of age by date of appointment
· No felony convictions
· Must have good moral character and emotional suitability
Applications:
Applications can be submitted below or by dropping them off at the department.